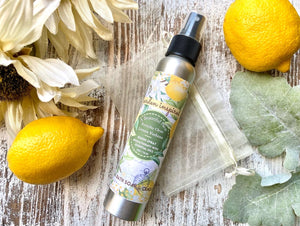 Fill your space with the lovely pick me up fragrance of lemon verbena and essential oils! This is an uplifting scent that will have every space smelling clean and fresh EVERYDAY!
Made with plant-based non-toxic ingredients, this room spray is a water-based mister and not an aerosol. 
Sulfate, Paraben, Phthalate & Formaldehyde free.
Ingredients: Distilled water, cola quad SME, poly sugamuse d9, fragrance, essential oil blend, plant-based preservative (95% natural derived ingredients) water-based
Manufacturer disclaimer:
*Keep away from children. Do not ingest, may cause allergic skin reaction or eye irritation. Keep away from open flames. Please recycle.