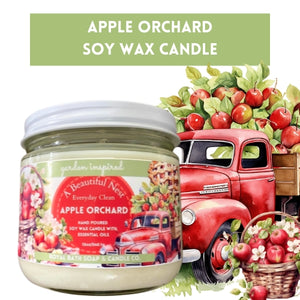 Crisp and refreshing!  A classic for any season.
Notes: Apple, cinnamon, spice, green, vanilla
Ingredients: All natural soy wax, cotton wick, fragrance
Soy wax is known to have a cleaner, longer lasting burn time.  We use lead free all natural cotton wicks. Our fragrances are skin safe.
Formaldehyde, paraben and phthalate-free
60-84 hours of burn time
Listing: One clear glass metal lid 12 oz natural soy wax candle.  
Notes: Light your candle and burn until the entire melt pool (the wax you see on top) is melted. Wax has a memory so it will follow the first burn pattern, meaning if the top does not fully melt the first time it is more likely to tunnel. To remedy tunneling, scrap about a 1/4 inch of wax (very small amount) from the entire top of the candle and relight the candle until the entire top has a complete burn pool. You should be good to go. Be sure to pinch off the burnt wick after two-three burns once the candle has cooled. Keep out of reach of children. Keep out of reach of children.